Britain's GCHQ Rebuts 'Ridiculous' Trump 'Wiretap' Claims
White House Reportedly Apologizes After Claiming Britain Spied on Trump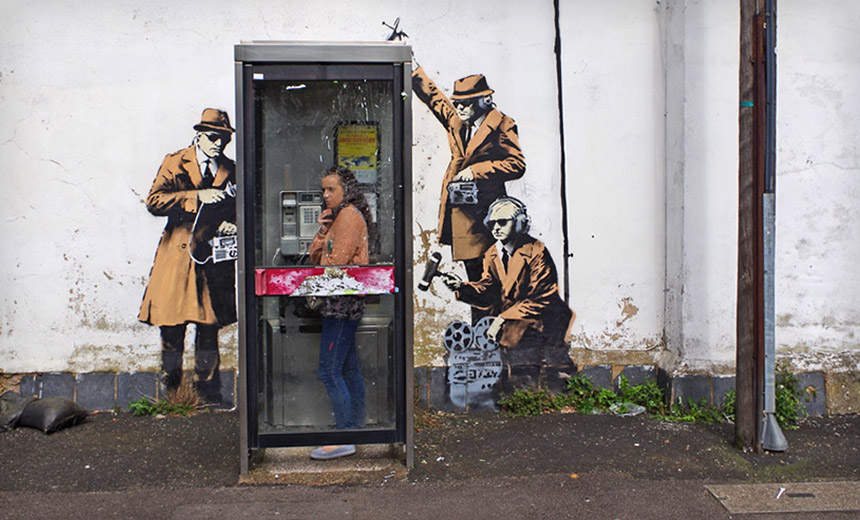 "Utterly ridiculous."
See Also: Live Discussion | The Toll of Identity Sprawl in the Complex Enterprise
That's the assessment of GCHQ, Britain's signals intelligence agency, which intercepts communications between people or devices, regarding claims that it conducted surveillance on Donald Trump.
The rare, public pronouncement from GCHQ came in response to White House Press Secretary Sean Spicer in a March 16 press conference repeating allegations that Britain had spied on Trump. His claim triggered a behind-the-scenes diplomatic spat, with British officials, including the British ambassador to the U.S., calling on their American counterparts to account for their claims.
In response, Spicer and H.R. McMaster, the U.S. national security adviser, issued what amounts to an apology to the British government, a senior administration official told CNN.
"We've made clear to the U.S. administration that these claims are ridiculous and should be ignored," said James Slack, a spokesman for British Prime Minister Theresa May. "We've received assurances that these allegations won't be repeated."
But Spicer on March 17 denied that the White House had issued any releated apology and claimed that he was merely repeating what someone else said. "I don't think we regret anything," Spicer told reporters, CNN reports. Asked by CNN's Jim Acosta if there was an apology by the administration to the British government over the matter, Spicer replied, "No, we were just passing on news reports."
Claim: Obama Called In GCHQ
The allegation that Britain spied on Trump first surfaced March 14 when Andrew Napolitano, a legal analyst for Fox News who is a former New Jersey Superior Court judge, claimed that President Obama "went outside the chain of command" to conduct surveillance on Trump by calling in Britain's GCHQ.
"Three intelligence sources have informed Fox News that President Obama went outside the chain of command," Napolitano claimed, without providing any proof.
"There's no American fingerprints on this," Napolitano said. "What happened to the guy who ordered this? Resigned three days after Donald Trump was inaugurated."
Spicer repeated those claims from the podium in his March 16 press briefing. "He didn't use the NSA, he didn't use the CIA, he didn't use the FBI and he didn't use the Department of Justice, he used GCHQ," Spicer said, quoting Napolitano's Obama allegations.
GCHQ is one of three British intelligence agencies. It's analogous to the U.S. National Security Agency.
If GCHQ had conducted surveillance of a U.S. presidential candidate at the request of the sitting U.S. president, it would arguably represent a massive, undemocratic abuse of power.
Dismissing the Claims
GCHQ's March 17 response was the first public sign that the U.K. government was dismissing the wiretap claims with extreme prejudice.
"Recent allegations made by media commentator Judge Andrew Napolitano about GCHQ being asked to conduct 'wire tapping' against the then president-elect are nonsense," GCHQ tells me in a statement. "They are utterly ridiculous and should be ignored."
To put the pronouncement into perspective, the agency rarely issues public statements of any kind, as multiple technology reporters have noted.
I really cannot emphasise enough to a US audience how rare it is that GCHQ has commented this evening https://t.co/GMyVSLlQRi

— James Ball (@jamesrbuk) March 16, 2017
Hasn't happened in my five or so years as a tech reporter. https://t.co/Z08v4pT1nm

— Dave Lee (@DaveLeeBBC) March 16, 2017
The diplomatic spat triggered, in part, by Spicer is also notable in that Britain is perhaps America's closest intelligence confidant, and the two countries form part of the so-called Five Eyes surveillance partnership, which also includes Australia, Canada and New Zealand.
Analysts say the unusually blunt statement - from a secretive intelligence agency - would have been vetted at the highest levels. "British intelligence is clearly determined to avoid being drawn into what is an increasingly toxic row in Washington," says Gordon Corera, the BBC's security correspondent in Washington.
Surveillance Claims
The wiretap claims began March 4 in a series of Twitter posts from Trump. "Terrible! Just found out that Obama had my "wires tapped" in Trump Tower just before the victory. Nothing found. This is McCarthyism!" read one tweet.
He also said Obama "was tapping my phones in October" and had stooped low "to tapp [sic] my phones during the very sacred election process."
Trump has provided no evidence to substantiate his claims.
Coincidentally or otherwise, the White House has called on investigators looking into Trump and his team's alleged ties to Russia - while he was campaigning for president - to also now investigate the wiretapping claims.
Microwaves With Cameras
But the wiretapping claims continue to be called into question.
On March 12, White House counselor Kellyanne Conway suggested to Bergen County Record columnist Mike Kelly that the surveillance may have taken a different form.
"What I can say is there are many ways to surveil each other," Conway said, mentioning that phones and TVs could be tapped, as well as the existence of "microwaves that turn into cameras."
On March 16, meanwhile, Spicer said that when Trump referred to wiretapping, he didn't mean wiretapping.
"I think there's no question that the Obama administration, that there were actions about surveillance and other activities that occurred in the 2016 election," Spicer said in his press conference. "The president used the word wiretaps in quotes to mean, broadly, surveillance and other activities."
Trump, in interviews, has continued to stand by his claims, saying more information will be revealed within two weeks.
Officials Dismiss Reports
To date, the wiretap claims have been rebutted by Obama and his former director of national intelligence, James Clapper, while FBI Director James Comey has privately said the allegation is false, The New York Times reports. Meanwhile, three leading Republicans - the speaker of the House and the chairmen of both the House and Senate Intelligence Committees - after being briefed by Comey said they have seen no evidence to support the allegations.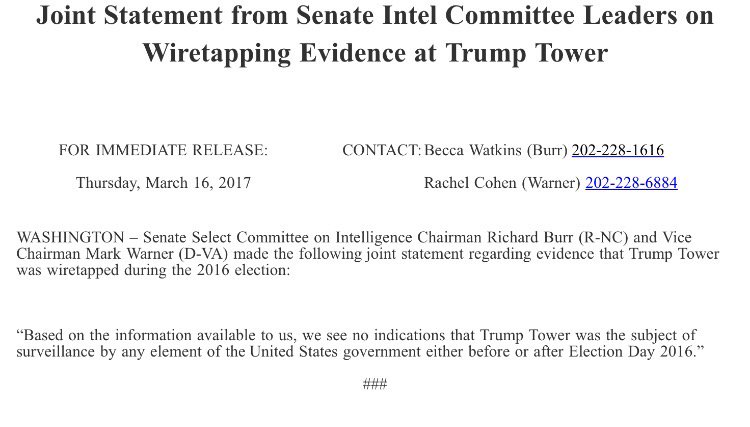 "I don't believe Trump Tower was tapped," House Intelligence Committee Chairman Rep. Devin Nunes, R-Calif., told reporters March 15, adding that Trump's communications could have been intercepted in "incidental" intelligence collection.
Both Nunes and Rep. Adam Schiff - the ranking Democrat on the House Intelligence Committee, also from California - have demanded that any wiretapping evidence be presented to their committee by March 20, saying they will otherwise issue subpoenas for records.
In his March 16 press briefing, Spicer faced sharp questions from the press corps. "Why can't we just end this farce and just have the president say he was wrong?" asked CNN's Jim Acosta.
In response, Spicer accused him of "[jumping] to all of these conclusions" without himself having been briefed by the FBI.
British Alert: Hybrid Warfare
The White House's move to - erroneously - blame GCHQ for conducting surveillance on Trump stands in stark contrast to the administration's response to the government of a country that may have actually done so.
Indeed, one thing Britain's intelligence establishment has been warning about - just like their U.S. counterparts - is the growing threat to the integrity of their democracies from outside forces, as evidenced by Russia's attempt to disrupt the 2016 U.S. presidential elections, as well as elections in other countries, including France and Germany (see Trump on Hack: 'I Think It Was Russia').
In December 2016, delivering a rare speech, Alex Younger, chief of MI6, the secret intelligence service, said that "hybrid warfare" attacks increasingly threaten Western democracies.
"The connectivity that is at the heart of globalization can be exploited by states with hostile intent to further their aims deniably," Younger said. "They do this through means as varied as cyberattacks, propaganda or subversion of democratic process. ... The risks at stake are profound and represent a fundamental threat to our sovereignty; they should be a concern to all those who share democratic values."
While Younger didn't name names, analysts said he was clearly referring to Russia (see No Shock: Russia Confirms 'Cyber War' Efforts).
March 20: This blog has been updated to reflect the White House denying that it issued a denial.