BAI Wrap: 'Mobile is the New Online'
Insights on Big Ideas for Banking in 2011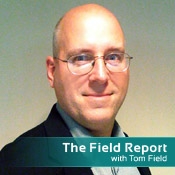 First of all, for those who care about such things, I'm told that this year's event was about 10% larger than the 2009 BAI show. Hard to gauge by eyeing the crowd, as there just were so many people milling about the Mandalay Bay resort where BAI was held. In fact, the Professional Bull Riders group was in town for its World Finals, which made for an interesting mix of bull riders and bankers.
My take on the growth of this year's event: I spoke to three different sponsors - big name banking/technology vendors - and they each said this was their first BAI show, and they were pleased. That's good news for a couple of reasons: 1) Vendors are getting back out on the road at industry events, and 2) Banking institutions are spending money. Sure signs both that the economy has improved.
Big Ideas
Sat in on one session entitled "Six Big Ideas that Will Shape the Future of Finance," led by Jim Bruene, editor and founder of the Online Banking Report and Finovate Conference Series. Bruene made two points that are absolutely worth repeating:
Mobile is the new online; online is the new branch.
"Mobile is the new online" -- in other words, mobile banking today is what online banking was a half-dozen years ago. Not just a service you should offer, but one you must if you wish to just keep pace with customer demand. The current best guess is that there are 13 million mobile banking customers today, and that number swells daily. "Things are happening on the phone that couldn't happen online," Bruene says.
Online is the new branch" -- it's the place where customers go today if they have questions, problems, need additional services. Used to be that the physical branch was the place where you resolved issues. Not today. In fact, for younger banking customers, the online site might be the closest thing to a physical branch that they've ever seen. Interesting perspective - let it sink in a bit.
A couple of highlights from Bruene's "big ideas":
Mobile is the Platform for Everything. Expanding on his earlier theme, Bruene discussed how mobile is quickly becoming the venue of choice for checks, deposits, payments and e-wallets. He also openly acknowledged fraud concerns, talking up a new form of GPS-based authentication that essentially uses the cellphone to tell customers: "Here's where you are; here's where your money is currently being spent." A concept with legs, I think.
The Children Are Our Future. Interesting new dynamic that Bruene discussed. Used to be that when your customers' kids went off to college, they took their banking with them and relocated to a new institution. Now, though, with the advent of online and mobile banking, these young adults have no use for physical branches or ATMs - their payment cards and smart phones are their lives. "If you can capture your customers' kids now," Bruene says, "you may never lose them." The key, he says, is to make electronic banking an engaging experience that combines elements of two things that young people love - games and social networking.

So ... your thoughts? If you were at the BAI event, I'd welcome your impressions. And if you're just piqued by Bruene's big ideas, I'd love to hear your thoughts on banking and security as we approach 2011.