ATM Skimmer Gets Jail Time
Bank Fraud Scheme Targeted 500 Accounts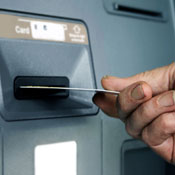 A woman who pleaded guilty to conspiracy to commit bank fraud for her role in a New England ATM skimmingcase that targeted more than 500 bank accounts has been sentenced to 45 monthsin prison (see ATM Skimmer Pleads Guilty).
See Also: Live Webinar | More Data, More Problems: Applying the Right Automation to Propel Security Operations
Gabriella Graham, 21, who once lived in New London, Conn., and co-conspirators Mehmet Aydin, 42, and Ahmet Cilek, 40, both of Turkey but living in New York, between February 2011 and July 2011 targeted ATMs in Connecticut, Massachusetts and Rhode Island at 11 banks, including Chase and Peoples United, and one credit union, according to the indictment. Their alleged skimming attacks resulted in financial losses of more than $335,000.
Graham helped to produce counterfeit ATM cards that she occasionally used to make unauthorized ATM withdrawals, according to court documents. She also served as a lookout, while her co-conspirators installed and removed the skimming devices and made unauthorized withdrawals of their own.
As a result of the scheme, some 500 bank accounts were defrauded, and financial institutions suffered losses of more than $330,000.
Court records say that between February 2011 and July 2011, Graham, Aydin, Cilek and others installed skimming devices on ATMs at 11 banks and one credit union in Connecticut, Massachusetts and Rhode Island. After skimming card details and recording PINs, the co-conspirators used the stolen information to create counterfeit bank cards that allowed them to withdraw funds from customer and member accounts.
Aydin and Cilek also have pleaded guilty and await sentencing.