10 Tips to Prevent Season's Thievings
Cyber Monday is Coming - Educate Your Customers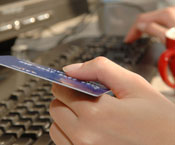 You know "Black Friday" - the day after Thanksgiving, when holiday shoppers flood the brick-and-mortar stores.

But do you recall "Cyber Monday" - the Monday after Thanksgiving - the most famous online shopping day of all?

See Also: How To Cut Through The Web Of Insurance Fraud

Cyber Monday originated with Shop.org in 2005. Since then, consumers have flooded commercial websites each Cyber Monday. But right behind that surge of online shoppers come the identity thieves, says Anne Wallace, executive director of the Identity Theft Assistance Center (ITAC). "Criminals consider personal data the ultimate gift," Wallace says.

Online shopping is the retail industry's biggest growth engine, according to a recent Forrester Research study, which predicts $44.7 billion in online shopping this year -- an 8% increase over 2008.

But with the increase in online shopping also comes greater exposure to fraud. The key to protecting customers: Education. "Taking a few easy precautions while shopping during the holidays will help keep you from being a victim," Wallace says.

Here are some best practices to share with online customers while observing Cyber Monday.

Prevent Season's Thievings -- 10 Rules for Safer Online Shopping

1. Shop only at Internet merchants you know and trust. If in doubt, check with the Better Business Bureau.

2. Never share your Internet passwords with anyone. Use different passwords for different Web sites.

3. Do not provide your social security number, birth date or mother's maiden name in an email or within a Web site. When an email asks for this kind of information, this is a sure sign that the sender is up to no good.

4. Install the latest anti-virus software, anti-spyware and firewalls on your computer before shopping online. And keep them up-to-date with the latest patches. (Note: Buy these from a reputable software security vendor, not from an unknown security company; otherwise you may get infected with the malware you're trying to prevent!) Visit OnGuardOnline.gov or staysafeonline.info to learn more about security software, firewalls and other ways to secure your computer. To sign up for free cyber alerts and tips from the Department of Homeland Security visit: US-CERT.gov.

5. Practice safe behavior when it comes to your email. If it looks weird, or comes from an unknown person, don't open it. Even opening what you think is an email from a friend or relative could unleash a virus or a Trojan onto your PC.

6. Make sure the company is on a secure server by noting whether the Web address starts with "https." Check for a padlock icon at the bottom of the browser. Click on the icon and you should see the site address. This address should match the Web site address at the top of the page. If they don't match, you may be at a fraudulent Web site.

7. During the holiday season (and year round) check your credit card and bank account transactions online. Don't wait for the bill to come in the mail. A little bit of monitoring can stop unapproved use of your credit cards or criminals dipping into your bank accounts. It's also a wise thing to check your credit reports on a regular basis for incorrect information that may be a sign of identity thieves at work.

8. Keep printouts of the Web page describing the item you ordered and the price you're paying, any e-mail messages, and the page that shows the seller's name, address and telephone number.

9. Never buy anything, no matter how good the advertised price is, from an unsolicited email (spam). When tempted to buy that replica watch because that's exactly what your friend wants, just imagine that same item being sold from a cardboard box out of the car trunk by an unsavory looking individual. Also remember, buying from a spammer could cost much more than the price of that cool replica watch -- giving your credit card information to unknown entities over the web may place your identity in jeopardy.

10. Finally - Turn off the PC when you're done shopping. With the proliferation of broadband Internet access, many users now leave their computers on 'round the clock. This opens up the door for criminals who, once they've infected your PC, will turn it into their "robot" and commit cyber crime.