ID Theft Council to Focus on National Awareness
New Group Aims to Touch Every U.S. Community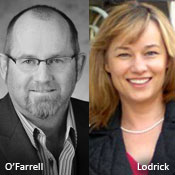 Neal O'Farrell: The newly created ID Theft Council aims to provide local support for victims.Identity theft crimes are getting more attention from law enforcement, yet they continue to thrive. Neal O'Farrell says that proliferation in identity theft crimes is what pushed him to found the Identity Theft Council, a newly created national network of partnerships between local law enforcement, businesses and volunteers that aims to provide local and in-person support for victims of identity theft. The catalyst for the council's creation: a lack of cross-community communication and education needed to help law enforcement agencies catch and stop perpetrators of identity theft.
Related Content
"We have to find some national way to communicate, particularly when it comes to Social Security numbers," O'Farrell says. "There's no easy way to put a fraud alert on our Social Security number. We need to figure that out."
O'Farrell, a cybercrime and identity-theft expert and consultant for Intersections Inc., brought Karen Lodrick, a victim of identity theft turned advocate, aboard to help spread the world about the ITC and spearhead its growth.
In this exclusive interview with Information Security Media Group, O'Farrell and Lodrick discuss:
The unique role the ITC expects to play in consumer and community education efforts;
How the ITC plans to work with local law enforcement agencies; and
Why the ITC sees financial institutions as playing an integral role in the fight against identity theft.
Neal O'Farrell is a nationally recognized expert on cybercrime and identity theft. Once described as one of the world's top 20 security experts, O'Farrell was the driving force behind a number of national security awareness initiatives, including Think Security First, a non-profit partnership between Chambers of Commerce and cities across the country to improve cybersecurity education at a community level. Over his 25-year security career, O'Farrell has worked as a security advisor to financial organizations, governments, the military and Fortune 500 firms around the world.
O'Farrell is a board member of the Center for Information Security Awareness and recently created the first course and certificate program to be endorsed by the FBI/InfraGard to provide free security awareness training to the nation's 26 small-business owners and their employees. He also was the first security expert to train an entire police department in identity-theft awareness. The program has since been used by more than 200 police departments and police academies, as well as the FBI, the Department of Motor Vehicles and U.S. Attorney's Office.
Karen Lodrick, is an identity-theft victim turned advocate who has been a creative consultant, speaker, performer and writer for the last 17 years. She graduated from college with the hopes of working as an artist. She moved to San Francisco in 1997 and pursued a career in graphic design. Now she is diligent in providing identity-theft awareness to help those who have been victimized.
Latest Tweets and Mentions