Mobile Functionality or Security?
Consumers Rank Ease-of-Use and Fraud Protection as Priorities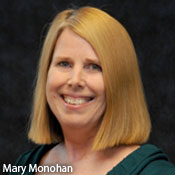 <
See Also: How Cybercriminals Use Phone Scams To Take Over Accounts and Commit Fraud
a href="/mobile-banking-grows-slowly-a-2860">
Mobile banking
is on the rise, with 23 out of the United States' top 25 banks already offering some sort of mobile service. As smart phone and tablet usage grow, banks and credit unions will need to continue implementing and enhancing mobile technology, but they must focus on security and convenience, says Mary Monahan of Javelin Strategy & Research.
Today, 50 percent of smart-phone users use mobile banking, says Monahan, managing partner and research director at Javelin. Monahan recently oversaw the development of Javelin's 2011 Mobile Banking Financial Institution Scorecard, which notes that 8 percent of U.S. consumers already own tablets.
Related Content
"Mobile banking is really becoming ubiquitous," Monahan says in an interview with BankInfoSecurity's Tracy Kitten [transcript below].
But the ways in which consumers engage mobile banking is starting to diverge. Smart-phone users expect quick interfaces for online transactions, while tablet users are more comfortable with transactions that resemble transactions they traditionally conduct on PCs. "When you're on a tablet, it's very comfortable to spend a long time and you want to be able to interact with the program," Monahan says. That means banks need better graphical components for mobile tablet banking than smart-phone mobile banking.
Another element to consider: security. Consumers told Javelin they wanted to know their financial institutions had implemented mobile data encryption, and that they would reimburse their customers and members if fraudulent transactions resulted from mobile interactions.
As institutions roll out more diverse mobile banking and payments offers, Javelin recommends they focus on consumer education. "There's a lot of misinformation out there and consumers are very curious about it," Monahan says. "If you're going to have a mobile-banking offering, you've got to have marketing efforts."
During this interview, Monahan discusses:
Educational steps that should revolve around mobile banking security and protections;
How the emergence of P2P payments will open the door for more mobile payments; and
Why the mobile is expected level the mobile playing field between Microsoft and Apple.
Monahan's banking background includes managerial experience working with growth businesses, strategizing and implementing cross-sectional financial plans to accommodate multiple projective scenarios. As a college educator, Monahan's work focused on current issues in accounting and economics. As a former vice president of commercial banking at Wells Fargo, she marketed and managed tailored financing services to growth companies. Monahan also served as an assistant vice president/manager and loan supervisor during her tenure with Wells.
Mobile Banking Scorecard
TRACY KITTEN: What makes this particular study, the mobile banking scorecard study, different?
MARY MONAHAN: What we try to do is we try to study mobile banking from the perspective of the consumer. We're reviewing each financial institution's mobile banking website to determine if the FI offers mobile banking, and we're using five main criteria: mobile access, their general features and functionality that they offer, their SMS-text banking features, their security and their marketing to score their mobile-banking offering.
KITTEN: Could you give us some highlights from this study such as what stood out?
MONAHAN: Some interesting things came out of this. First of all, let's talk about mobile banking to set the stage. There are three types of mobile banking. You can bank with a downloadable application. You can bank through the mobile web or you can bank with SMS-text banking. If you offer all three types we call that a "triple play" and what we saw is that the "triple play" is rising and that the downloadable app is the number-one offering among banks that we studied. When we look at it over time, we see that downloadable apps have risen. A few years ago in 2009, only about two-thirds of banks had downloadable apps. Now, 96 percent [of banks] have downloadable apps. If you have a smart phone, you can have a downloadable app, but not everybody has a smart phone. Only about 45 percent of consumers have smart phones, so over half of the consumers can't download apps and they can only access banking through SMS text. About 70 percent of banks are offering text banking.
KITTEN: So for this particular survey, how many financial institutions did you review and was the pool limited to domestic institutions?
Follow Jeffrey Roman on Twitter: @gen_sec
Latest Tweets and Mentions